Whoo hoo!!!
I'm on break!!! Finally. This semester seemed never ending for the longest time, and then the end came too fast for me to keep up with all my assignments. It was crazy!! I'm happy to be on break because the tension was killer. I needed to take a break. I've been on break since Friday, and I'm just chilling. I've been playing a little bit, cleaning a little bit, and stitching a lot. I've also been reading some. Of COURSE I have piccys to show you. Lots of them. I've changed my rotation around quite a bit with the advent of school. It started on Superbowl Sunday (which was a huge disappointment to me. I was totally rooting for Peyton to get another ring) when Dani and I started another SAL. We were gonna watch the game together and start a new project we both already had in our stash. It's a kit called hang in there. It's a kitten barely hanging on a branch. Since we both needed the sentiment, it seemed like a good idea. So I let Dani pick the day we'd work on it. (I only had Monday, Friday, and Saturday available, since the other days of the week already had a sal on them.) She chose Monday. So we worked on Hang in There the first couple of Mondays, but then she got behind on her mom's Christmas pressie. So she started working exclusively on that. I still worked on Hang in There on Mondays. And I decided to pull a couple of rotation pieces for Friday and Saturday since it's a pita trying to keep straight where in the rotation I was and whether I had stitched on a rotation piece that week. (With school, I get very littel stitchy time.) So I pulled out my biggest project (Frost Moon) for Friday and my almost finished project (Astral Lion) for Saturday. So at this point, I had a project for every day of the week: Sunday Beach Romance, Monday Hang in There, Tuesday Time To Go, Wed Christmas ornie, Thurs Noah's Sub, Friday Frost Moon, and Saturday Astral Lion. I was happy with that. Until Dani said to me that I was way ahead of her. And I realized that a SAL is not fun if the other person is way ahead of you. So I swapped out Noah's Sub for Midnight Hunting (so Rosa can catch up to me) and Lust for Hang in There (so Dani can catch up to me). I have piccys of everything I took a couple of weeks ago for the website I had to build for the final exam. I created a video, but I can't show it here. (It has to be kept in a separate file on a web server, and I don't have a web server.)
So I'll start with Sunday, and move on from there. Sunday is Beach Romance.
It's the wedding sampler I'm doing for my brother and sister-in-law. (Very appropriate as they got married on the beach in Florida.) I'm almost a quarter done with it, and I took it off the Q-snap to let Dani see it a couple of weeks ago. (This is not the most current piccy, but it IS a full piccy and not a partial, so I'm using it.) You can see it's still mostly on the Q, but I pulled out the side so you can see it. It's very pretty, I think, and the fabby I'm using just sparkles. (It's from Silkweavers, but I didn't write down the name. And I have too much stuff in my head to remember it!!!) Anyways, I got a lot done this past weekend as I really had some time to work on it. (At the end of the semester, I was giving myself fifteen minutes a day to stitch, so I was making a little progress, but not much.) You can actually see the sparkle in the opalescent fabby in the piccy which I think is nice. I worked on it quite a bit on Sunday, although I did play some and read some too. It ended up being a good day. I did some fill in nearer the top so I could move the fabby down in the Q-snap. (I didn't take another piccy when I had it off the Q-snap though. I just didn't think of it.) It's coming along well, and I'm pleased with it.
Next up is Monday, and I'll show (and talk about) both Lust and Hang in There. Hang in There is very cute.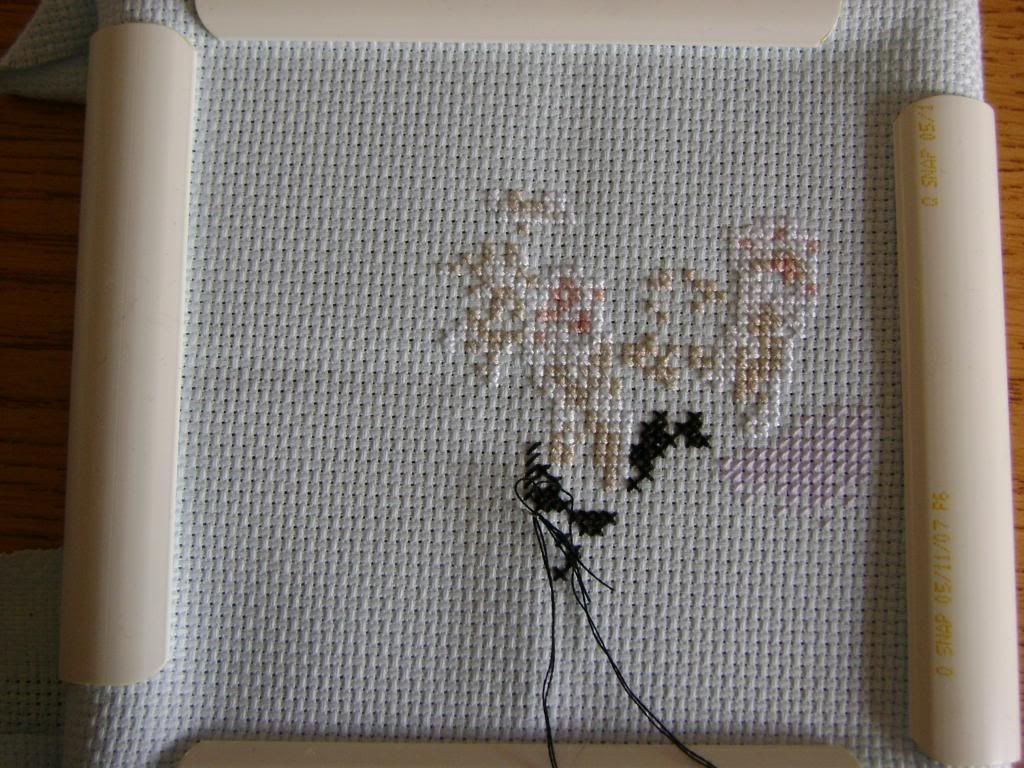 It kind of reminds me of my Yes Dear in a way. The desperate look on the kitty's face is reminiscent of Yes Dear when she starts to fall off my leg. (She will come and sit on my leg to keep me company. But it's not the best place to sleep deeply, and sometimes she almost falls off.) It's funny and painful when she starts to fall off cause she grabs my leg with her claws and digs in. My pants are only so thick, and they are not scratch resistent, lol. Anyways, I'm doing pretty well with it. I've had good luck with not having to frog it every five minutes like some of my other projects in the past. (Most notably, that horrid chart of Jesus I did for my mom. I swear for a while there, I frogged that darned thing ever single day. I'd put something in and turn around and frog it right back out.) It's coming along quite nicely. Lust is coming along well too.
I have it on the Q, but I don't have a huggie for it yet. (I need to get one, but since I've been very careful about not putting my fingers on the fabby, I think I'm okay for now.) Lust is in shades of red and pink, so (of COURSE) the first color I chose to do is a dark, dark blue. (Just my luck, right???) I don't dislike blue, though, so it's all good. I made some good progress on Lust on Monday. I finished up the blue on this page and I then started working with a maroon color. I was excited to get to another color, lol. And when I finished with the maroon color, I went on and started the black. (I have to move the Q-snap to get all of the black done, and it's so close to the edge of the fabby, I really don't have a lot of room, so I'm avoiding it. I could have done even more on it on Monday, but I was reluctant to have the fabby not be as taut as I like it, so I put it down.) I probably put three hundred stitches into it in one day, which is almost a record for me. I think I did more one time, on Desert Landscapes Mandala. The last time I remember working on Lust was the Halloween before last. (I gave out candy, then came in and watched the movie Halloween (the original) while I stitched on Lust. That's the last time I can remember working on it.) I'm happy at how it's coming along, and it feels fast (which is a good thing, especially as I am not a fast stitcher.).
Next up is Time To Go (which I just frogged today).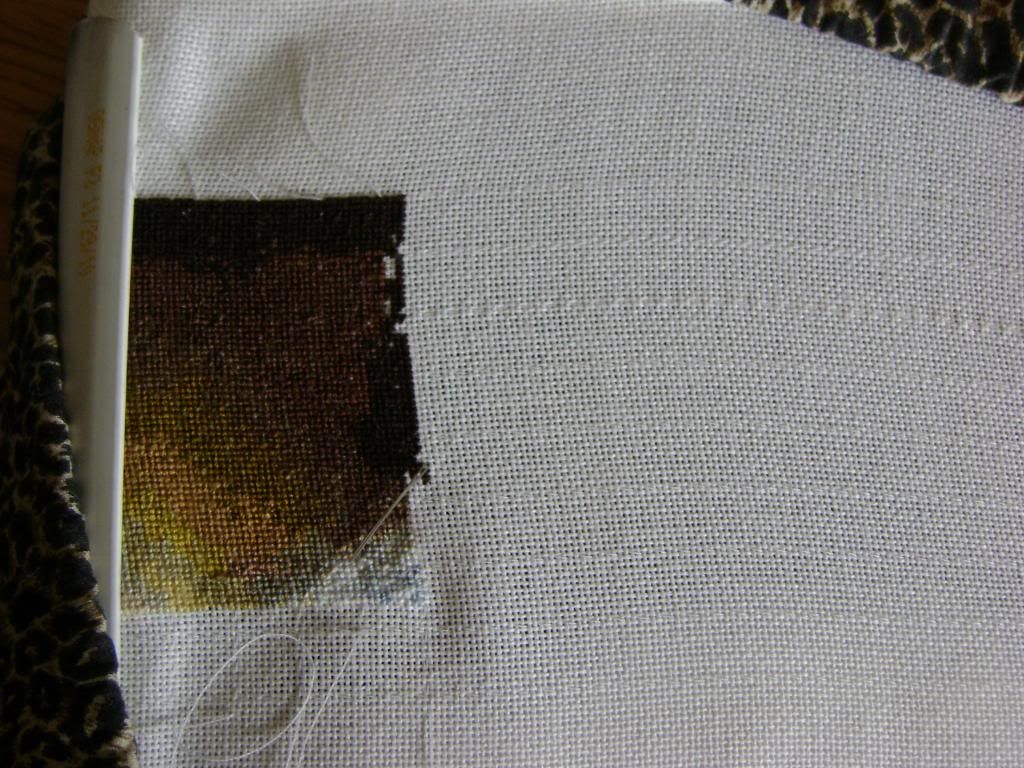 I put part of her wing in (the bottom part of the page) and then forgot to finish it. IDK what I was thinking. I put the brown colors in next, and I wasn't finished with the blues and whites. So I had to put the brown in the right place and then pull out the brown and green I put in and put that in the right place. Then I had to actually finish the wing. It was really hard to pull it out too. (And I somehow managed to cut the fabby, so when I went back in to stitch it up, I had to be very careful not to pull my stitches too taut in some areas. Luckily it still looks good, and you can't really tell where the cut thread is. I might be able to tell if I look really closely, but I know pretty much where it is, so I can see it.) It's coming along well. I finished page three tonight (happy dance) and started page four. (Out of forty seven or forty eight, yikes!!!) But the brown isn't bothering me too much, which is a good thing. I'm not a fan, but I'm not thinking to myself how ugly the brown is as I'm putting the stitches in. (That can only be a good thing.)
After that is Christmas ornie day (Wed).
I was making an ornie for my sister, but I misread the directions. It is supposed to be stitched over one and I stitched it over two. It's almost six inches across so it's way too big to be an ornie. I'm thinking I'll frame it when I get it done. I think it's absolutely lovely. It's a rose, and the colors are gorgous. The color palette is all reds and greens, so very Christmasy. I'll keep it for myself, and have the pattern to do again when the time comes. (It's pretty torn up, so I may need to ask the company for another copy. They have something on it that says do not copy, so Kinkos wouldn't make a copy for me to use as a working copy. I hate when they do that, cause I tear my charts up. I usually make a copy here, but my printer wasn't working when I started the rose, so...) It's also supposed to have a Kreinik border around it, but it doesn't. It just has the rose. (I don't think I'm gonna have room for the border, to tell the truth. It's close to the next ornie, and since I was basing where I started it on the size in the description (one over one), I think it's gonna come awful close to the next ornie. I can cut it sort of close, but there's only so much I can do...)
Thursday was Noah's Sub and will be Midnight Hunting.
I'll not show a piccy of Midnight Hunting since I haven't done anything to it since the last piccy was taken. But I'm almost done with the first page of eight on Noah's Sub. I frogged out the Zebra (thinking it was in the wrong place) then put it back in in exactly the same place (because it wasn't in the wrong place at all). And, boy, did I feel dumb when I did that. Total dork move, lol. I'm now working on the charcoal in the zebra's head, and then I'll do his teeth. I still like the orca better. He's so cute!!! I'm looking forward to working on Midnight Hunting this week. It's got a ton of fractional stitches, and I really enjoy the complexity of it, so I'm happy to have it back out. Now if Rosa can just pick up her needle and catch up to me, I'll put it on the back burner again. Part of my hopes she catches up quickly, and part of me hopes she gives me some time with Midnight Hunting. It's such a fun chart.
Friday is Frost Moon, and I should have a page finish (page one) this week.
You can see from the image how tiny the first page is. It's not even as long as my scissors. (They're about three inches long, so they're not very big.) I've got a little bit of her wing and the part under her wing to do and then the page is done. (Two happy dances in the same week, wow.) I got the main parts of the page filled in on Friday (and I worked on it a LOT) so I have some confetti heavy parts to do to finish the page. I hope I'll finish it on Friday and can start page two. (The total chart (including floss list and piccy and such) is 101 pages, so I have a LONG way to go before I finish this one.) Frost Moon is the biggest piece I have started, and that's the reason I put it into my rotation. It needs to be worked on or I'll never get it done before I die!! This last column of ten by tens went fast because the last column in only five squares wide. Most of the second last column was done when I got out of school, so I got a lot accomplished on Friday and that set the stage for the page finish. (Every little bit helps, right???)
And the last project is Saturday's Astral Lion.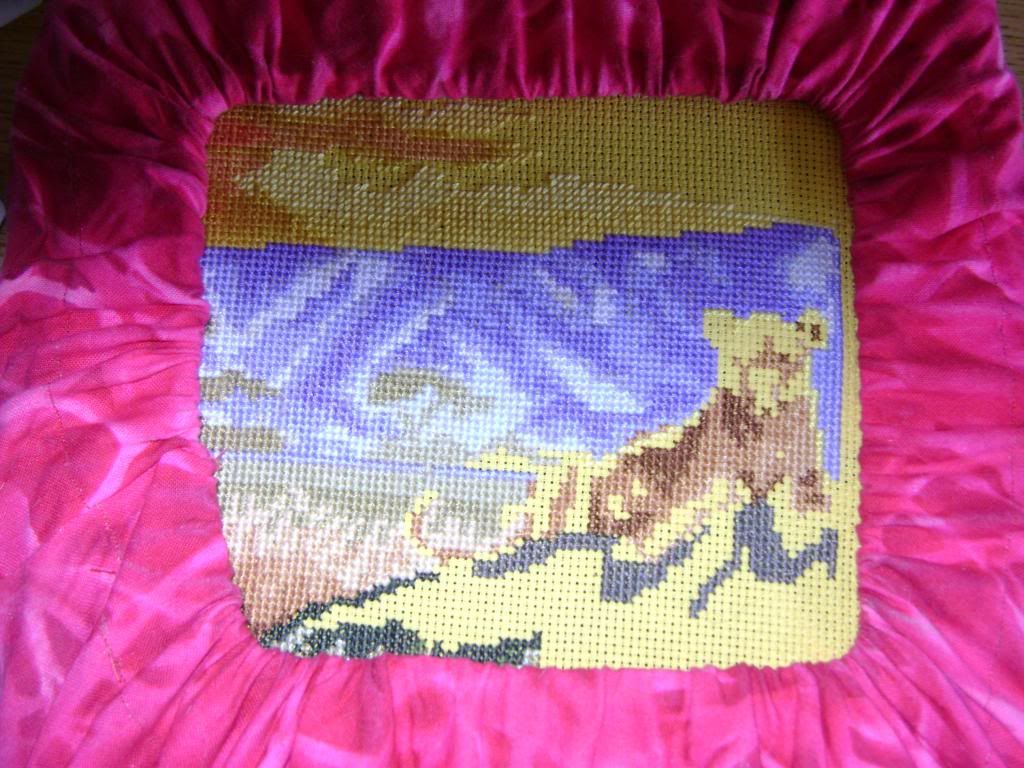 He's just gorgeous. And he got a lot of work on Saturday. I am working on the lioness part of the design. She's laying on a small hill, and has several cubs (three if memory serves) to her right. But I am working on the left side of the project, and so I just barely have all of the lioness. She's not nearly as impressive as the lion is. Of course, he is much bigger and more detailed, so it makes sense that he's more impressive. I really enjoyed working on the areas around the lioness though. They're all purple and green as you put in the grasses and the sky. It's very beautiful to me. Plus I hardly had to frog anything on her, so that makes it nice too!!! Her cubs (there are three of them) are just to her right. They won't be in the next page, but they will be in the last page. (I have one partial page to do. It's part of the lion's chin, and then all the rest of him.) I recently took him off the Q-snap for something, and I took a full sized piccy then. You can see it here if you'd like to look. Out of eight pages, I have finished six and a half, woot!!! I can hardly wait to finish this one. (It won't come anytime soon. I'm taking a full load over the summer, so I'll have VERY little stitching time.) But it's coming, and I can hardly wait to see it all framed up and looking good.
Speaking of framing, here comes the school stuff. I was in RAPP this year at UC (University of Cincinnati, for those who don't remember where I am). RAPP stands for Racial Awareness Pilot Project. It's an education project that talks about issues of race, gender, and cisgender. (For those who don't know, someone who identifies as the gender they were born with is cisgender. Anyone else is transsexual or just trans.) I learned a HUGE amount, and really had a good time doing it. There were no problems because of my age (except that I didn't always get the pop culture jokes) and I really enjoyed myself. We had some REALLY deep discussions about what racism, sexism, cissexism, and heterosexism are. And we learned about where predjudice comes from and how it starts in childhood. It also taught me how to start the racism/sexism conversation (and encouraged me to start that coversation so much that I did with a couple of complete strangers in the waiting area at the pizzaria one night). I learned a lot and got to know some really cool people. And we had so much fun! There were interesting conversations, both planned and unplanned. We had meetings for three hours every other Wed night, and there were three retreats that lasted from four forty five till six thirty the next day. (They were all over Friday night to Sat morning.) And while I had a hard time going to sleep in a strange bed (or on a strange air matress), I still got up the next day and functioned. (I can do that if someone wakes me up several times. I'm not so good at doing it alone.) I learned that I DO have prejudices, and that I am not always as open minded as I should be. And it really humbled me. I applied to be a peer leader for RAPP XXX. (I was in RAPP XXIX.) (Those are Thirty and Twenty nine, by the way.) As I'm not good with Roman numerals, someone had to tell me that XXIX was twenty nine. Peer leaders get to go through the whole process again, and they get to be in on the planning of meetings and retreats. Some of the information was VERY thought provoking. We (RAPP XXIX) often found ourselves asking, "Why didn't we learn this in school?" There are lots of activism activities you can do too, and I'd like to get involved with some of them if I don't get to be a peer leader. I'd like to do some of the activism now that I have the knowledge behind it. I feel like I would be a good activist, and I would hope I can help make a difference.
But I started to talk about framing. I made three pieces for people that helped me in RAPP. (I was gonna do six until I found out how expensive they'll be to frame.) It's just a simple piece that says, "RAPP XXIX Rocks" that I made for Rachel Anne (RAPP member), and Brice and Rebecca (facilitators). At the end of year RAPP XXIX banquet, we each were assigned a person to present to the group. Rachel Anne was my person. And I was lucky enough to have had several interactions with her (they often split us into small groups for discussion) and I could use that as fodder. I did a ppt with piccys of her in verious RAPP situations and some piccys I found on her Facebook page (luckily, it was a public page). When I get the framed pieces back, I'll show a piccy of what they look like. Rosa did the pattern for me, which was awesome of her. And after I got it, I made myself work for fifteen minutes every day on them so I would get them done in time to get them framed. (And then I took them in while Jerry (the framer) was on vacation, and the guy who "took my order" messed them up so Jerry had to reorder the frames for me.) I told Rachel Anne they'll be in within the next two weeks, and she asked me to mail it to her at her new addy (which she hasn't given me yet as she doesn't know it). RAPP has a recruitment even going on over the summer for freshman orientation, and I'll be there a lot (I think I signed up to table for ten days over the summer) and I'll give Brice and Rebecca theirs one of those days. They're expensive but they're totally worth it. They did a lot for me, so I wanted to do something for them.
As you can see from my blog, I also learned a lot of HTML and CSS. I've learned to border things and change text, add shadows and transformations, and all kinds of things. This is just a basic sample, but I loved that class. I created a stitchy website (I wish I could show it to you all) for my final project that got a 98% grade on it. (I got an A in that class). I also took Systems Admin (where you learn to manage a local area network), Database Management II (about databases and writing code in Structured Query Language), Intro to Co-op (about how to present yourself in an interview and how to land a co-op job), Computer Programming II (working with Java, which is really hard to master), and Trig (which was really hard for me, but that I need to take the Physics I want to take). I got two As, two A-s, and two Bs for the semester, which I think is pretty darned good. Almost all my classes were fun, and I enjoy learning new things, soooo....
In the Fall Semester, I took Women's Chorus again (and my attendence fell due to my problems with illness), so I didn't take it in the Spring. Also in the fall I took: Fundamentals of Digital Media (how to work with image editors (we used Photoshop), video editors, and audio editors), Computer Programming I (which was not as much fun as Programming II for me), Fundamentals of Unix (which teaches you how to use a UNIX system and helped me quite a bit with System Admin), and Intro to Psychology, and I got good grades in them. B in Women's Chorus and As in all the others. I also moved again during Fall Semester which was a PITA. I love my new apt, but it's on the second floor which is hard on my knees (especially when I do laundry). And there is no balcony. There is, however, a patio. I use it a lot, which just tickles my landlord pink. He put heavy cement furniture out there so people could use it after they said they would, and then no one used it. It's just been sitting out there. I've been out at least fifteen times so far this spring, just to enjoy the lovely weather.
I'll leave you with that for now, as I know this blog has gotten inordinately long. Hopefully, you're all doing well and getting some good stitchy time. I'll try and blog some more stuff next week, when I should hopefully have my RAPP projects back and can show piccys of them. Y'all have a happy weekend and a good rest of the week!!