Hi there folks. Long time no see, right?!? It's been a good week though. I didn't get a lot of stitching done, though. I got very little done, to tell the truth. I actually have been playing quite a bit. The new expansion pack came out the week before Christmas, and there are two new character types in it. Of course, I immediately had to start one of each. They are Black Wizard which is the male version of the Incar Magician, and the Half Bagi, which is the female version of the Bagi Warrior. Both are fun to play with. Wizard is weaker, but has some cool skills. Half Bagi is really strong, and she uses a big, BIG blade. (She has a LOT of points to strength, so she can pick the darned thing up and swing it, lol.) I named her Weapon of Destruction and him DToddesq, after my friend Dani who picked which one I should play with first. His weapon is an orb, which is kind of weak. And she has a huge blade, which I'm playing with now, and the other option is a Katar, which fits over the hand and has long spikes attached to it. (The blade is a Falchion, but I don't know if that's a real word, or if they made it up. Also, I don't really care, lol. It is there in game, and that's all that matters.) So I haven't done much stitching. I stitched a little bit at Christmas (not even twenty stitches), then didn't even pick it up on Wed, Thur, and Fri. I did about fifty stitches on Saturday night, which I thought was pretty good. I worked on Dad's Memorial this week.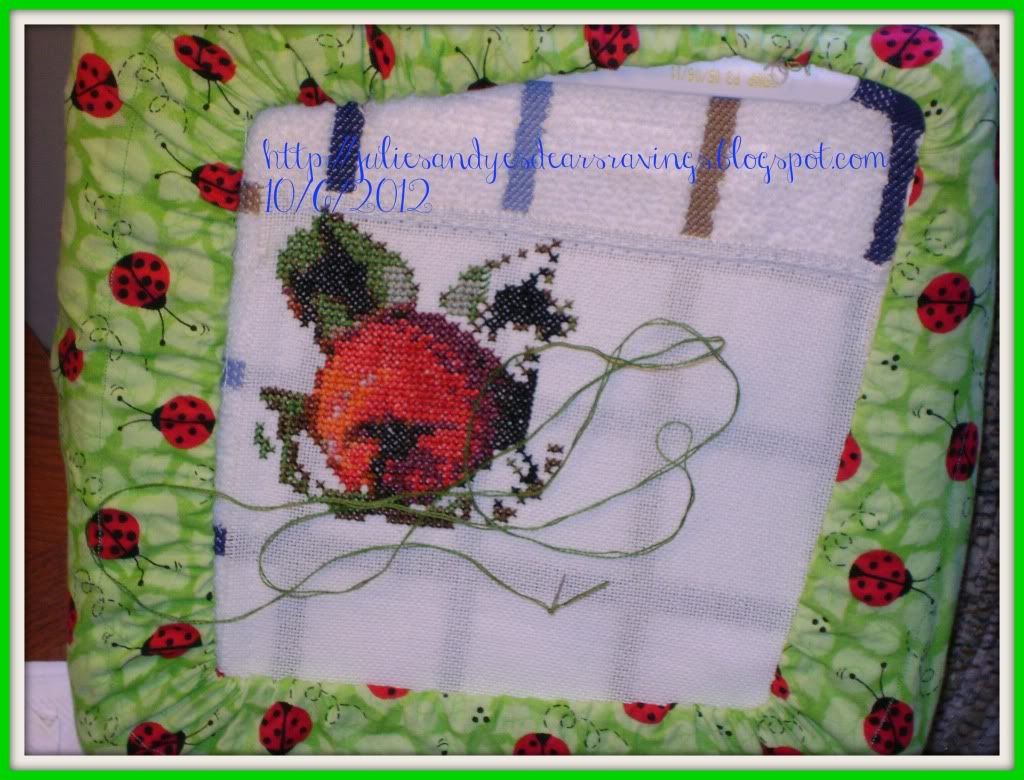 (Well, on Saturday night. I didn't work on it on Monday either. Glad the expansion came out during break, lol.) Not much progress, but I'll show a piccy anyways. I worked on the leaf on the right hand side at the top. I did actually get quite a bit done. And then I worked with a really dark brown (3371 for those who are familiar) for a bit. It's almost black in color it's so dark. I didn't have near the trouble with it that I usually do. I have trouble usually cause I can't see through the towels, and so I can't tell where the needle is and where it's gonna come up. I guess I was just lucky on Saturday night, but who knows. It turned out good though, so I'm happy with it.
And my other project that I worked on this week was Beach Romance (Janlynn).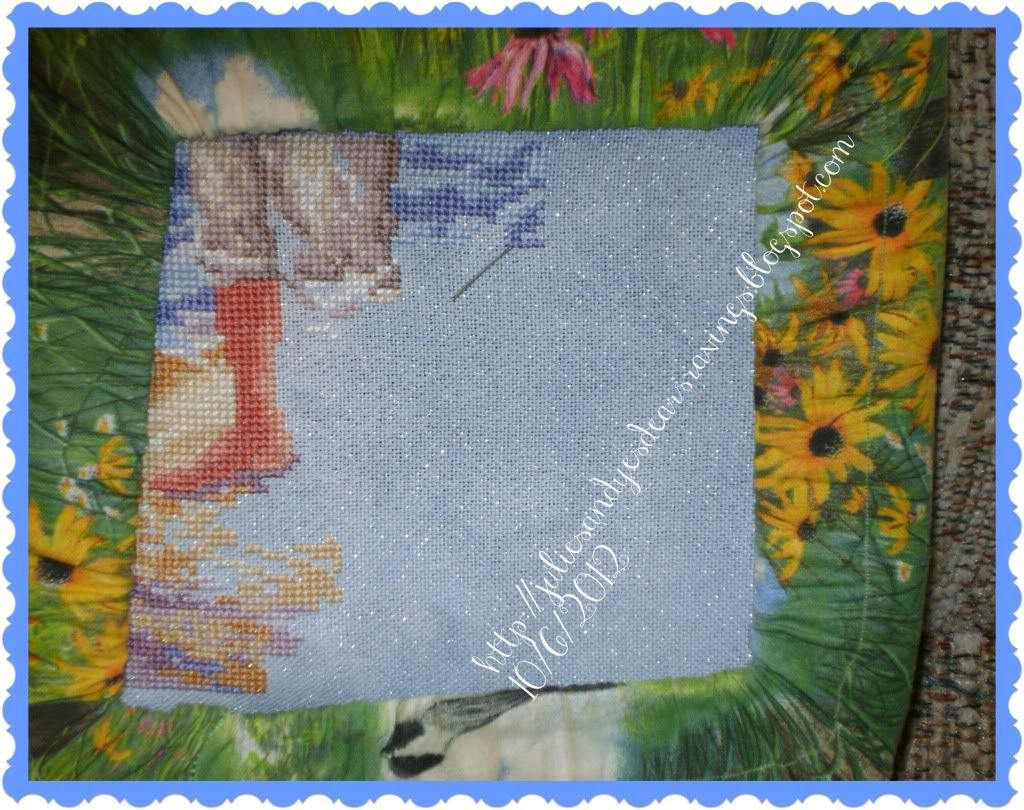 It's coming along nicely. I really like the colors in this, although I almost think the legs are too brown. I put in the rest of his leg today. Well, most of it. I still have to put in about ten stitches, and then cross some of the others, but it's mostly in. I thought of Amy and David when I worked on it, which is unusual. (I usually only think of football, lol.) And speaking of, my team won today, but it was our second string versus their second string, so it wasn't a great game. Both teams are already in the playoffs, so this game didn't really have any strong reason to win. They could have gotten the third seed, but they didn't want to play us first week in the playoffs, so they let their second string play. We're the sixth seed, so no matter who we play, we're playing away. Okay, just checked and we play in Houston, against the twelve and four Texans. We're only ten and six, but I know my boys are good enough to beat them, if they play up to their potential. Y'all help me in cheering them on to a victory!!!
And I'd better say a few words about Christmas. It all started Christmas Eve Day. It was horrible. If I had purchased that firearm I was thinking about, I would have shot my computer. There's no doubt in my mind. It would have been dead meat. I was so ticked off at it. IDK what the problem is, but it was driving me crazy. Even Tora couldn't help me, and that's rare. I was trying, and not succeeding, at installing SQL Server 2012. My Database Management I class uses that particular software, from Microsoft. It drove me insane for about six hours on Monday. I tried everything I could think of, and it insisted that I don't have administrator privileges on my PC. I tried everything I could think of, then I tried everything Tora could think of. Nothing worked. I was ready to kill it. It still insists that I don't have privileges, and I don't know how to fix it. But the professor said there would be support for it the first week of class, so I'm not as worried as I was. Still, when I went to bed, I was laying there turning it over and over in my head. I would get away from it and try to go to sleep, and in ten minutes I'd find myself going over it again. It was awful. (I hadn't heard from the professor yet. And it was pissing me off, so I couldn't get it out of my head.) I was supposed to be there for Christmas at about ten o'clock. At eight I finally got up and did something to take my mind off of it for a couple of hours. (I was reading. I'm collecting the Carpathian series by Christine Feehan, and I was reading the second book, which I had never read before. It was awesome. Totally got my attention, and I was hooked lickity split. I went over at ten, and when I pulled up in my driveway, Jerry was walking the dog. I stopped to say hello, and he told me Rhonda moved out, so if I wanted to come up, I was more than welcome. I kindly declined. (I make a joke everytime I get out of the shower or bath to a phone call that he must be outside looking in the front window cause I came in the living room naked to get the phone. It always makes Julie and my mom laugh.) At David's house, I was the first to get there, followed by Amy's parents, then mom and Beth. Lastly, Jim and Cathy got there. About one thirty, I took the dog out back for a potty and to cool off. (It was HOT in the house.) And who came walking down the street but my son, Patrick. He stayed for a little bit, but no one wanted him to stay when we didn't have any pressies for him. I feel like we kicked him out though, and I feel bad for it. So I think I'm gonna invite him over next weekend to play with my X box 360. He's dying to get his hands on it. I took him home, and went back to David's house for pressies. We opened. I got some good stuff. Mom got me my pair of shoes. (I didn't mention that at the time, I don't think. We went out to Kenwood Mall during school so she could return something to Easy Spirit. While we were there, she wanted me to try on a good pair of shoes. I found a pair of purple and gray ones I loved, but they didn't have them in my size. So I tried on another color, and they fit. So mom got them for me for Christmas.) They're wonderfully comfy at first, but I have to get used to them because they have an insert where the arch goes. I have no arch support in my current shoes, so it can get uncomfortable. But I'll get used to them. I'll probably keep them for school when I'm walking around with heavy things. She also got me a bunch of charts (she paid off two of my HAED layaways, for nine charts) and a pair of winter jammies. They're pink and black with white letters, and they say sleep is good on them. They're cute, and I can use them for when I dogsit. (Mom said warm ones for when you dogsit, and David grimaced and said I could turn the heat up. My mom laughed and said it obviously pained you to say that. And I said, "Which is why I don't turn the heat up. I just can't wear my shortie pjs there." It was funny. David is a tightwad, lol. And Beth got me an Amazon gift card (and I came home Christmas day and ordered four books for twenty four ninety, lol. The gift card was for twenty five. For some reason, though, dumb Amazon only applied the gift card to part of the order. The rest it tried to put on my Mastercard, which needs to be paid before I charge anything. I was ticked about that. I finally got them all charged to the gift card, and they should start arriving tomorrow. Or maybe the next day cause of Christmas. David and Amy gave me a gift card to the grocery store, and a gift card to my favorite pizzeria. Yum!! (Yes, I already have had pizza from there since Christmas.) My sister gve me a gift card for the pizzeria too. (My family knows I love that place.) Everything I got people went over well, so that made me happy. My mom's pressie was broken though, so I need to send it back and get it replaced.
I came home from David's house, managed to drag myself and the gifts inside, took my pills, and hit the hay. I slept for five hours, then had a dream so weird it woke me up. (I had been awake for over twenty six hours, and I woke after five hours. It must have been a mighty strange dream, lol.) I was up till about two AM, and then I went back to sleep and slept all night. I felt a lot better when I got up on Thursday morning. Bright eyed and busy tailed. (At ten AM, groan. I hate to wake up before noon.) It was a good week though. I hope everyone else had a good Christmas, and I can't wait for the new semester to start!! (I feel a little lost without homework to do, lol.) Y'all have a good night, and thanks to all of you who left a comment on my last blog entry, and those of you who will leave a comment on this one!!